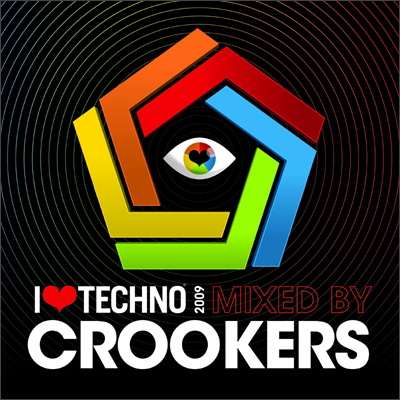 This text will be replaced by the flash music player.



www.newsdistribution.be | www.newsrecords.be | www.newsrecords.nl
I LOVE TECHNO 2009 MIXED BY CROOKERS

Joining the ranks of recent I LOVE TECHNO mixes from Boys Noize and Dave Clarke, Italian DJ duo Crookers now provide us with a new live mix to add some bass heavy skewed madness to the occasion. Featuring the likes of Photek, Jesse Rose, Fever Ray, Jahcoozi, Zomby, Osborne, Rustie, Metronomy and the massive Crookers hit 'Knobbers' we find the massive Belgian event adding a new element to their bastion of all things electronic.
The hot fuss surrounding Crookers is about to reach fever pitch. Already the hippest act in dance circles they will soon unleash their debut album on the world and things are expected to go mad for the two men from Milan. Their remix of Kid Cudi's Day 'n' Night reached number two in the UK earlier this year and is now riding high on the US Airplay charts. This, and their already huge body of work, has attracted the attention of Kanye West and Will I Am who have become fans and collaborators. Dolce & Gabbana recently used their U2 remix for the catwalk and their MySpace page is getting more traffic than Coldplay. Like we said, Crookers are about to go boom!
Crookers started in 2003 when two DJ's, nick-named Phra and Bot, met and paired up over a shared love of hip hop, house and the emerging skewed, bass heavy sounds pioneered by Switch in the UK and Diplo in the States. "We decided to call ourselves Crookers to describe what we do. To make beats and tracks that are not straight up, that are twisted or crooked."
Their first release End 2 End, was released in 2006. But it was with Love To Edit in 2007 and Knobbers, for their current label Southern Fried, when they really made an impact with peers and a burgeoning fan-base. There's footage on You Tube of their appearance at I Love Techno last year that captures 10,000 people singing the riff to Knobbers. Phra recalls it as the pinnacle of their DJ gigs so far, "It felt like nothing else, because people were there for us and knew all our tracks so it was very personal." Their rising status was confirmed with over two dozen remixes including club smashes for Dusty Kid (The Cat) and Kid Cudi (Day and Night) and their services have also been called on for A-list stars to crook out The Chemical Brothers, U2 and Moby.
After remixing such huge names in pop and rock Crookers have now gone direct to some of their favourite artists to work alongside on their debut album. Aptly titled Tons Of Friends the roll call of pals involved is jaw dropping. It includes, Kelis, Soulwax, Major Lazer, RadioClit, Spank Rock, Pitbull, Tim Burgess, Kardinal official and Roisin Murphy.
Starting off with the futuristic house vision that is Photek we then find the Milanese duo threading together the big house sounds of Jesse Rose, the dub bassed throb of Oliver$'s remix of Jahcoozi, the thrusting dub step grooves of Rustie and Zomby, Osborne's spectral techno and the pair's own remix of Fever Ray. With Brodinski appearing twice alongside Noob and then Mumdance as well as Crookers massive hit 'Knobbers' that has already set I Love Techno alight, Crookers deliver their unique, bass heavy sound.
Taking place on the 24th of October, this year's I Love Techno is held at the Flanders Expo in Ghent and as ever is expected to attract some 35,000 people across 5 rooms making it Europe's leading indoor dance event.


cat.nr: LLCD6
www.lektroluv.be